This shrimp with orzo is one of those easy weeknight meals that tastes like a million bucks. What is your go to dish when you are in a time crunch? I love cooking with shrimp because it cooks so darn quick. Just a few minutes and you have a tasty dinner.
Recently I have had a few kitchen failures. Please tell me it happens to us all. We sit down to dinner and I can't help but think this dish is missing something. I can't quite pinpoint what it is so until then those recipes are put on the backburner. But oh my this shrimp was not one of them. My mouth is watering just looking at the pictures again. The combination of tomato, feta, and cilantro is a match made in shrimp heaven. Plus who doesn't like orzo. It is such a versatile pasta that I always try to have a box in the pantry. You can toss some in soup, make casseroles, or delish shrimp dishes like this one.
I happen to be a huge cilantro fan and even though it might sound like an odd combination it works wonderfully in this dish. If you are on the "cilantro tastes like soap" side then you may substitute fresh basil or another herb.
Shrimp with Orzo
Ingredients
1 ¼ cup uncooked orzo
2 garlic cloves, minced
2 tablespoons olive oil
2 medium tomatoes, chopped
2 tablespoons lemon juice
1 ¼ lb shrimp, peeled and deveined
2 tablespoons fresh cilantro, chopped
¼ teaspoon pepper
½ cup crumbled feta cheese
Instructions
Cook orzo according to package directions.
In a large skillet sauté garlic over medium heat in olive oil for 1 minute. Add tomatoes and lemon juice. Bring to a boil for 2-3 minutes.
Reduce to a simmer and add shrimp. Let simmer 5-7 minutes until shrimp are cooked though.
Drain orzo. Add orzo, cilantro, and pepper to skillet. Toss to mix. Sprinkle with feta cheese.
Adapted from Taste of Home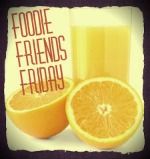 Today I'm linking up with Foodie Friends Friday